Heated Hoses
(Skip to available products)
IntelliHose® Temperature-Controlled Engine Hose
IntelliHose is the first available heated hose with a reliable, intelligent DC temperature control – meaning it heats up faster, lasts far longer, and draws less power over time than any other heated hose. And it's also available for any size, temperature, battery type, and temperature.
IntelliHose is ideal for anywhere freezing creates blockages in an engine: for example, to prevent freeze-ups in DEF lines, stop frozen condensation buildup in ventilation hoses, or maintain flow in fuel lines. Whatever your conduit heating need is, an IntelliHose can be built to suit it.
ThermEvolve® DC Heating Technology
IntelliHose is built with engenity, LLC's ThermEvolve technology, meaning programmable control, secure-fitting insulation, and components durable and reliable enough for real-world engine use: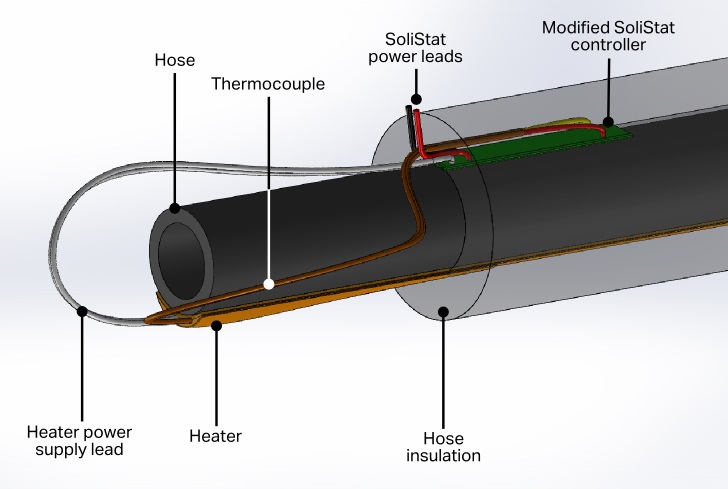 A flexible heating element is attached to the hose inside the insulation. The heater conforms to the shape of the hose, which lets it put heat exactly where it's needed. Several kinds of elements are available to match different applications' needs and cost requirements.
The hose is enclosed in foam insulation with a durable braided-nylon sleeve to drastically improve heat retention and reduce battery draw. The sleeve is more than durable enough to withstand normal engine hazards such as accidental punctures, abrasion, and sharp edges.
A SoliStat™ DC thermostat, the most advanced and reliable compact DC thermostat available, controls the heater with speicalized programming optimized for fast heat-up time and precision. SoliStat is designed to work at temperatures as low as −40°F (−40°C), and to outlast all other thermostats by completely eliminating the arcing that causes frequent thermostat burnouts on DC power.
The Length, Size, Temperature, and Quantity You Need
IntelliHose is completely customizable: you specify the length, the temperature, and the hose type, and we create as many or as few pieces as you need. You can even supply the hose yourself. IntelliHose can be built with various kinds of heaters to get the performance you need at a price that works for your budget, and can be built in sizes from 1 to 30 feet, for any hose diameter from 6 millimeters up, with operating temperatures up to 257°F (125°C).
Ordering
IntelliHose systems are built to order. To get a quote on an IntelliHose system, just fill out the simple IntelliHose Quote Request Form with the details of your application. You can also email us at info@oemheaters.com or call us at (866) 685-4443.
More Information
Download an information sheet on ThermEvolve technology, including IntelliHose as well as IntelliThaw engine component heating jackets.
IntelliHose and IntelliThaw Product Information