Kapton® Polyimide Heaters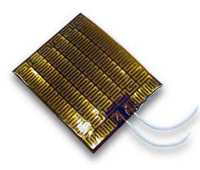 Kapton Heaters are the superior choice in flexible heating.
Polyimide heaters feature extremely fast warm-ups and quick responses as well as lightweight flexibility and outstanding mechanical, chemical and electrical properties. Polyimide heaters are commonly seen in medical equipment, aircraft, and vacuum chamber applications.
Superior features
Double the tensile strength of fiberglass-reinforced heaters

50% lighter than fiberglass-reinforced silicon heaters

Meets precise heating requirements in applications with temperatures as high as 392°F and as low as –319°F

Not affected by common fluids and solvents

Distributed wattage design eliminates edge-loss compensation

Thin, lightweight design (0.005" thick) allows close thermal contact for maximum efficiency
Flexible Heater Comparison Guide
Distinct Kapton® Advantages
Exceptional dimensional stability

Tear and cut resistance

High dielectric strength

Minimal out-gassing in high-vacuum environments

Resistant to radiation, fungus, oil and chemicals

Thinnest, most rugged flexible heater

Fastened to application with pressure-sensitive adhesive (PSA)
Kapton® Polyimide heaters are built per order. Standard lead times are around 4 weeks. Contact O.E.M. Heaters with Kapton® heater requests. You can email us directly, fill out a contact form, or give us a call at (866) 685-4443.
Kapton® is a registered Trademark of DuPont™.