Roof and Gutter De-Icing
that doesn't need to be replaced every year
If you've come to this page, chances are you're looking for a
more reliable heating cable for roof de-icing.
Most hardware stores in cold-winter regions stock heat cable kits that will successfully stop gutter freeze-ups and ice dams, which can cause thousands of dollars in damage to your house. Homeowners who use these kits, though, soon discover that most of them are "one-time use".
Buy SpeedTrace De-Icing Kits Online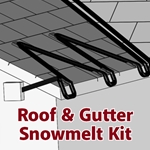 Industrial-grade, long-lasting roof protection.
During the summer, UV from the sun drastically degrades the low-quality plastic in the cable, and next winter when you plug the cable in again, you discover after a day or so that no heat is flowing – which probably means buying a new kit, setting up a ladder in the snow, uncovering the old cable (possibly already encased in ice), and putting on the new cable.
There's a better way – and it's available online here: the
SpeedTrace Roof & Gutter Snowmelt Kit
. This is a kit based around the popular and reliable
SpeedTrace
family of self-regulating heating cables – these cables are
industrial-grade,
durable products and, with good treatment, we've known them to last
a decade or more in use.
Combine that with the hassle avoided by not having to go up on the roof every year or two to replace the cable, and the SpeedTrace kit is well worth the investment.
All in One
Adding any heating cable kit to your roof is a somewhat complicated project, but the SpeedTrace kit simplifies matters by including everything you need, so you don't have to worry about whether you've ordered the right termination kit or go out hunting for downspout hanger brackets. You can read about how to install the kit in the
 Installation Manual
, and there's more information on the
SpeedTrace roof kit page
.
Find Size and Buy
This simple calculator finds how much cable your roof will require.
Step 1: Select roof type
Roof type
Roof overhang

Standard

Standing seam, 18" (46 cm)

Standing seam, 24" (61 cm)

None (gutter required)

12 inches

24 inches

36 inches

Feet of cable required per foot of roof edge:
Step 2: Enter roof measurements
(Ft. per ft., from above)
Length of roof edge
Length of gutter
Length of downspout
 ft
 ft
 ft

Total length of cable needed:

Kit length needed:
Step 3: Get roof kits