Frontier™ Inline Solvent Heaters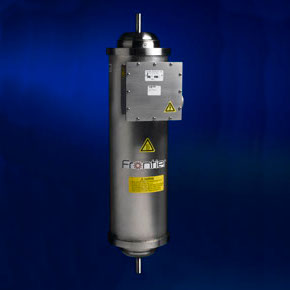 The next-generation Frontier™ series of inline solvent heaters deliver superior temperature stability and outstanding performance over a wide range of flow and temperature requirements. These heaters are made of electropolished stainless steel and are the optimal choice for solvents and IPA.
Applications for solvent heating include
...but are not limited to:
EKC265
EKC270
EKC8730
ACT690C
ST28
ST26
MEK
NMP
Specifications:
Service: Inline stainless-steel heater for heating solvents, single-pass or recirculating.
Construction: Electropolished 316L stainless steel, PFA- and PTFE-wetted surfaces, fluid pathway through manifold tubing oriented in a patented circular array.
Temperature range: Up to 180°C (356°F).
Fluid connections: ½-inch (12mm), ¾-inch (19mm), or 1-inch (25mm) tube stubes (custom connections available).
Pressure range: Up to 100 PSIG (689 kPa).
Available heater voltages: 120 to 600 volts, single- or three-phase.
Standard wattages: 3, 6, 9, 12, 18, 24, and 36 kW.
Certifications: UL 823, UL 499, CSA 22.2, and CE. Rated for Class I, Division 2 hazardous locations.
Safety features:
In lieu of direct immersion, the Frontier safely heats process solvents through indirect contact. Standard features include:
Grounded metal construction
Multiple-element thermocouples
Insulated housing
Hermetically sealed high-limit thermal cutoff device (TCO)
Call for more information
These heaters are highly customizable and must be configured to your application. To order, call us at (866) 685-4443, send us an email at sales@oemheaters.com, or fill out one of our contact forms. We look forward to helping you configure an inline solvent heater for your application.