Due to CoViD-19, there are some changes to our business. For current updates, please peruse this page. If you need information about the status of orders or quotes, you will get the quickest results by contacting your inside sales rep via e-mail.
1/4" Diameter (0.25")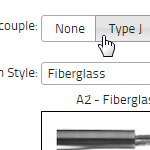 Cartridge Heater Configurator
Not finding the cartridge heater you need? Specify your own built-to-order cartridge heater, get an instant quote, and order online without waiting.
These cartridge heaters are available from factory stock. Quantity discounts apply to these parts, and will be applied in the shopping cart. If you're looking for quantities of more than 250 pieces, or if none of our stock cartridge heaters are quite right for your application, send us an e-mail, or give us a call at 866-685-4443 and tell us exactly what you need. We'll get a quote to you within one business day. Most stock cartridge heaters ship from our location within 2 working days. Orders under $50 can sometimes take up to 6 working days to ship.
Low/Medium-Watt-Density Cartridge Heater Specifications