Due to CoViD-19, there are some changes to our business. For current updates, please peruse this page. If you need information about the status of orders or quotes, you will get the quickest results by contacting your inside sales rep via e-mail.
Immersion Cartridge Heaters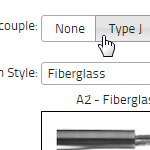 Cartridge Heater Configurator
Not finding the cartridge heater you need? Specify your own built-to-order cartridge heater, get an instant quote, and order online without waiting.
Features
May be supplied with additional junction boxes for additional terminal or lead protection
Can be supplied in other special alloys best suited to the operating conditions for corrosive environments
The lead end of the unit may be sealed for extreme environmental conditions
May be supplied for three-phase or three-heat operation
Made in the USA
If you have any questions about immersion cartridge heaters, feel free to send us an e-mail, fill out one of our contact forms, or give us a call at (866) 685-4443.