IntelliThaw® Engine Component Heaters
IntelliThaw heated insulation jackets are the first complete, reliable solution for preventing freeze-ups on engine components using DC power. IntelliThaw was designed from the start with real-life engine use conditions in mind: harsh weather conditions, limited battery power, and the need to bring a component to operating temperature fast. As a result, it is the only product available that can:
thaw your engine components fast and keep them at temperature,
using engine battery power – but not draining the battery,
without thermostat burnouts and the need for constant maintenance,
in a low-profile, wrap-around design that can fit nearly any component,
all from an installation "out of the box," with just minimal wiring needed.
IntelliThaw can be configured for use on all kinds of components in all kinds of engines. It is very well suited for emission reduction components on diesel engines built for EPA Tier 3 and 4 (EU Stage 3 and 4). IntelliThaw is built with engenity, LLC's ThermEvolve® technology: programmed control, secure-fitting insulation, and long-lasting, reliable components.
The System
A standard IntelliThaw system includes the following elements (or can be specified in other configurations):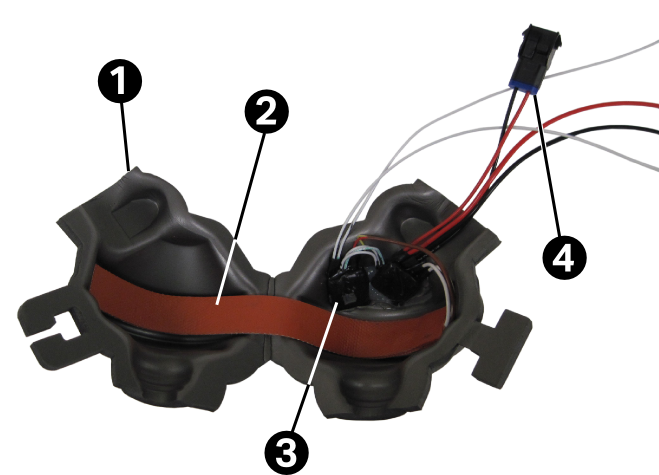 A durable, chemical-resistant, flexible insulating jacket, made of an advanced closed-cell nylon 6 foam. This polymer is exceptionally resilient against tearing and punctures, and is not affected by contact with gasoline or diesel fuel.
A flexible DC heating element that conforms to the contours of the component being warmed, allowing heat to be distributed evenly and efficiently through the component. Several different varieties of element are available to fit different applications' needs.
A SoliStat™ DC thermostat, the longest-lasting temperature control available for DC applications. The SoliStat is reliable at temperatures as low as −40°F (−40°C), and suffers none of the electrical arcing that causes standard mechanical thermostats to burn out quickly on DC power.
An optional connection to an IntelliHose® assembly: an insulated, temperature-controlled hose that can keep engine fluids at a proper operating temperature or prevent buildup of frozen condensation on hose walls.
The combination of these features overcomes the problems that often frustrate efforts to heat engine components on DC – such as very high battery drains and slow heatups (on systems without insulation or accurate temperature control), or frequent downtime to replace burnt-out mechanical thermostats that are badly suited to DC operation.
Ordering
IntelliThaw systems are built to order, and can be customized to fit nearly any engine component that is vulnerable to freeze-ups. The first IntelliThaw model (pictured above) was created for the PCV breather valve of a diesel genset, and models are under development to fit oil filters and CCV canisters. Fill out a quote request form today to get started creating an IntelliThaw system for your application.
More Information
Download an information sheet on ThermEvolve technology, including IntelliThaw as well as IntelliHose heated engine hoses.
IntelliThaw and IntelliHose Product Information