High Watt Density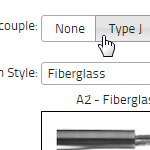 Cartridge Heater Configurator
Not finding the cartridge heater you need? Specify your own built-to-order cartridge heater, get an instant quote, and order online without waiting.
In addition to the stock high-watt-density cartridge heaters below, we offer custom high-watt-density cartridge heaters with no minimum quantity, in as little as 2 working days with an expedite fee.
High-watt-density cartridge heater specification sheets
High-watt-density cartridges: How to order
If you have any questions regarding high-watt-density cartridge heaters, feel free to send us an e-mail, fill out one of our contact forms, or give us a call at (866) 685-4443.
The items listed below are factory stock. Other sizes are available: please contact us or get an instant quote using the cartridge heater configurator.