O.E.M. Heaters will be closed on Friday, June 28th for inventory. We will also be closed on Thursday, July 4th and Friday, July 5th for the holiday.
Etched Foil Silicone Heaters
Silicone Rubber Heater Configurator
Configure your own built-to-order silicone rubber blanket heater, get an instant quote, and order online.
The etched element in these heaters provides superior heat transfer and exceptionally uniform heat output, which results in a faster warm-up cycle and longer life. The heaters operate in ambient temperatures from –80°F to 500°F.
Configuration of etched foil silicone rubber heaters, given the voltage, wattage, and resistance, is calculated using custom software. The lead time on custom etched foil silicone rubber heaters is usually 2–3 weeks. Note: Standard etched foil silicone heaters can be purchased here.
Advantages over wire-wound heating elements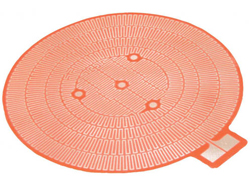 Higher watt densities

Distributed wattages

Elimination of edge loss compensation

Greater element area over heater sheath

Higher production quantities

Complex heat distribution with a rating of about 200°C (392°F)

Economical mass production

Reproduction of complex circuits
Note: These etched foil heaters are built to order per application and require a quote. For a built-to-order heater quote (within one business day), please send us a contact form, e-mail us, or call us at (866) 685-4443.