Due to CoViD-19, there are some changes to our business. For current updates, please peruse this page. If you need information about the status of orders or quotes, you will get the quickest results by contacting your inside sales rep via e-mail.
High-Temperature Heating Cords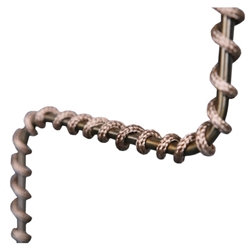 High-temperature heating cords can attain temperatures up to 1400°F. They're designed for use on small tubes, vessels, or anywhere that space is limited.
Features
Perfect for laboratory, production, or maintenance applications
Extremely flexible: can fit around pipes as small as 1/8"
Includes 9"-long (23cm) high-temperature tiedowns for easy installation
Custom sizes are available upon request
To place a custom order or for help deciding on the right item, call us at 866-685-4443, send us an e-mail, or fill out a contact form.