Due to CoViD-19, there are some changes to our business. For current updates, please peruse this page. If you need information about the status of orders or quotes, you will get the quickest results by contacting your inside sales rep via e-mail.
Smaller Diameters (up to 3½")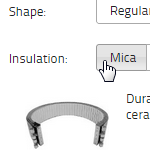 Band Heater Configurator
Not finding the band heater you need? Use our configurator to create your own built-to-order band heater, get an instant quote, and order online.
Our stock band heaters with diameters up to 3½ inches are built with one-piece (slide-on) construction.
If none of these band heaters is right for your application, you can configure your own band heater in any size and configuration, get an instant quote, and order online. If you have any questions about stock or built-to-order band heaters, please send us an e-mail, fill out one of our contact forms, or give us a call at (866) 685-4443.
Stock band heaters usually ship within 3-4 business days after an order is placed.
Terminal styles
SF1A:
Leads exit from side. Flexible leads with spring protector; stock leads are 12 inches long.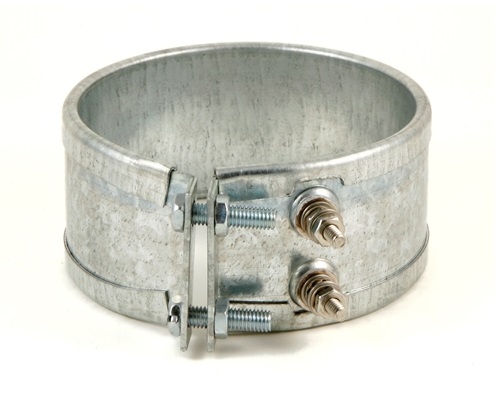 SF3B:
Simple post terminals.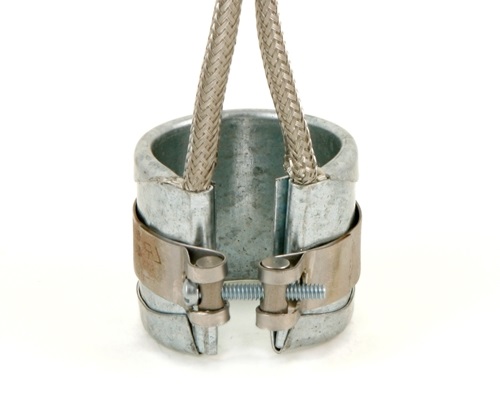 SF16B:
Leads exit on either side of gap. Stock leads are 18 inches long, with first 12 inches enclosed in stainless steel braiding.
Wattage
The maximum watt density (W/in²) that should be used is determined by the maximum temperature to be attained. Processes that involve a higher temperature call for a heater with lower watt density, so as to maintain longer product life. Excessive watt density stresses heaters and causes them to burn out. Follow the guidelines below for the longest service life from a band heater:
| | |
| --- | --- |
| Operating temperature | Max. watt density |
| 300°F | 40 W/in² |
| 400°F | 30 W/in² |
| 500°F | 21 W/in² |
| 600°F | 12 W/in² |
| 700 to 900°F | 10 W/in² |