O.E.M. Heaters will be closed on Friday, June 28th for inventory. We will also be closed on Thursday, July 4th and Friday, July 5th for the holiday.
Long-Line Heat Trace Cable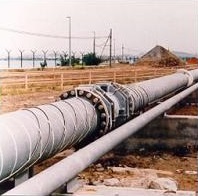 Long-line (or "series") heat trace cable is engineered to be usable at very long circuit lengths – with proper controlling, cable can be run at circuit lengths of up to 5 km between electrical feeds (with capabilities for circuit lengths up to 60 km under development). This cable is an ideal solution for keeping pipelines at operating temperatures.
A long-line heating cable system must be engineered carefully to avoid overheating and damage. As such, these are custom-built applications for which we'll need to talk in depth about specifics. Here at O.E.M. Heaters we have a long history of working with heat trace cable in remote environments, and we'd be happy to help you specify a system that will work for your application.
To get started with a long-line heat tracing project, you can call us at (866) 685-4443, email us at sales@oemheaters.com, or fill out a contact form. You can also read more about long-line heat tracing in the overview and specification sheets below, if you'd like to learn specific engineering details about these cables before deciding whether they're right for your application.
Long-Line/Series Pipeline Heat Tracing Overview
HTP1F heating cable – single-phase, thermoplastic sheath, up to 23 W/m (7 W/ft)
HTS1F heating cable – single-phase, silicone rubber sheath, up to 60 W/m (18 W/ft)
HTP3F heating cable – three-phase, thermoplastic sheath, up to 23 W/m (7 W/ft)
HTS3F heating cable – three-phase, silicone rubber sheath, up to 60 W/m (18 W/ft)