Due to CoViD-19, there are some changes to our business. For current updates, please peruse this page. If you need information about the status of orders or quotes, you will get the quickest results by contacting your inside sales rep via e-mail.
Long-Line Heat Trace Cable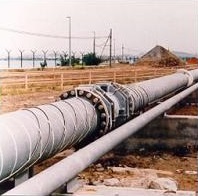 Long-line (or "series") heat trace cable is engineered to be usable at very long circuit lengths – with proper controlling, cable can be run at circuit lengths of up to 5 km between electrical feeds (with capabilities for circuit lengths up to 60 km under development). This cable is an ideal solution for keeping pipelines at operating temperatures.
A long-line heating cable system must be engineered carefully to avoid overheating and damage. As such, these are custom-built applications for which we'll need to talk in depth about specifics. Here at O.E.M. Heaters we have a long history of working with heat trace cable in remote environments, and we'd be happy to help you specify a system that will work for your application.
To get started with a long-line heat tracing project, you can call us at (866) 685-4443, email us at sales@oemheaters.com, or fill out a contact form. You can also read more about long-line heat tracing in the overview and specification sheets below, if you'd like to learn specific engineering details about these cables before deciding whether they're right for your application.
Long-Line/Series Pipeline Heat Tracing Overview
HTP1F heating cable – single-phase, thermoplastic sheath, up to 23 W/m (7 W/ft)
HTS1F heating cable – single-phase, silicone rubber sheath, up to 60 W/m (18 W/ft)
HTP3F heating cable – three-phase, thermoplastic sheath, up to 23 W/m (7 W/ft)
HTS3F heating cable – three-phase, silicone rubber sheath, up to 60 W/m (18 W/ft)