Due to COVID-19, our front office staff are working remotely until further notice. Currently (3/23/2020), the best way to get information about order status, or to get any other questions answered, is to contact your inside sales rep via e-mail.
Tote and IBC Heaters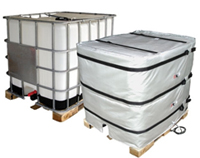 Tote and IBC heaters are designed to speed up the flow of contents in bulk containers without contaminating or scorching the product.
Applications
Warm tote tank contents at a required temperature
Viscosity control
Freeze protection
Thermal mixing
Temperature maintenance
Biofuel/biodiesel
and much more.
If you have any questions regarding tote and IBC heaters please call us at 866-685-4443, send us an email, or send us a contact form.
SALE!
We currently have deep discounts for quick sale on 120V 36-inch and 42-inch tote heaters. In stock and ready to ship!