Due to COVID-19, our front office staff are working remotely until further notice. Currently (3/23/2020), the best way to get information about order status, or to get any other questions answered, is to contact your inside sales rep via e-mail.
High-Temperature Heating Cords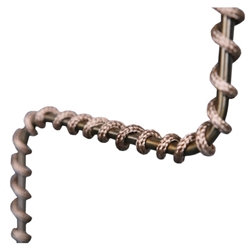 High-temperature heating cords can attain temperatures up to 1400°F. They're designed for use on small tubes, vessels, or anywhere that space is limited.
Features
Perfect for laboratory, production, or maintenance applications
Extremely flexible: can fit around pipes as small as 1/8"
Includes 9"-long (23cm) high-temperature tiedowns for easy installation
Custom sizes are available upon request
To place a custom order or for help deciding on the right item, call us at 866-685-4443, send us an e-mail, or fill out a contact form.